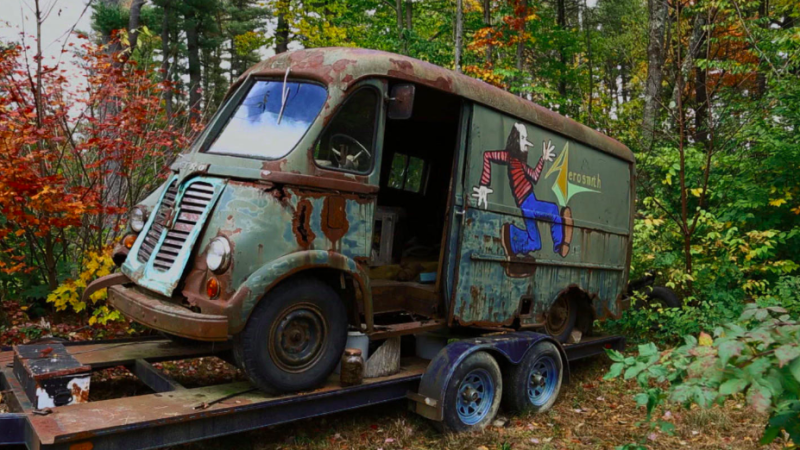 El último episodio de American Pickers en el Canal Historia es especialmente emotivo para los amantes de la música. Los presentadores de este espacio que recorre Estados Unidos buscando antigüedades han localizado la camioneta original que Aerosmith usaba en sus primeros conciertos.
La camioneta es una International Metro Van de 1964 que ya era vieja cuando la banda la usaba para sus primeras giras por Nueva Inglaterra. Se da la curiosa circunstancia de que la camioneta llevaba abandonada décadas en un pequeño bosque cercano a la localidad de Chesterfield (Boston).
El vehículo se pudría a la intemperie entre los árboles. Cuando los presentadores se pusieron en contacto con el propietario del terreno este les explicó que la camioneta ya estaba allí cuando él se hizo con la propiedad y que, aunque había oído que estaba relacionada con la banda, no pensó que pudiera tener algún valor.
@Aerosmith Saw @americanpickers Last night discovering this hidden treasure from the Greatest Rock Band ! Really Cool -AMERICAN HISTORY now in the right hands ! Excited to see what the do with it. Hope Aerosmith tell share some stories around it on the follow up. pic.twitter.com/RkTe1F1tUd

— KCONZ (@KConz20) July 31, 2018
American Pickers le demostró lo equivocado que estaba. Los presentadores del programa se pusieron en contacto con Joe Perry y Ray Tabano, quienes enviaron viejas fotografías del vehículo. Tabano, fundador de Aerosmith, hasta visitó Chesterfield y confirmó que la camioneta era auténtica.
El programa se la compró a su actual propietario por 25.000 dólares. Aunque aún no hay nada concretado, es de esperar que la camioneta pase por un proceso de restauración que le devuelva su antigua gloria. Solo el proceso va a ser todo un espectáculo.
gizmodo
Notas Relacionadas: